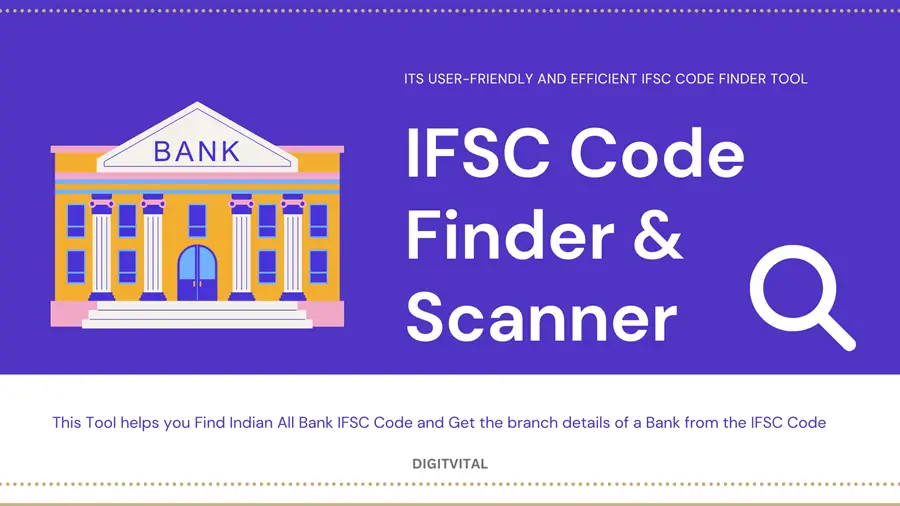 Managing financial transactions in India requires accurate information about the IFSC codes of banks. The Indian Financial System Code (IFSC) is a unique alphanumeric code assigned to each bank branch in India by the Reserve Bank of India (RBI). It plays a crucial role in online fund transfers, including NEFT, RTGS, and IMPS.
DigitVital is proud to present its user-friendly and efficient IFSC Code Finder tool, designed to simplify the process of searching and verifying IFSC codes for all Indian banks. With our tool, you can quickly find the IFSC code of any bank branch across India and ensure smooth and secure transactions.
Why Use the IFSC Code Finder Tool from DigitVital?
1. Comprehensive Database: Our IFSC Code Finder tool maintains an extensive database of IFSC codes for all Indian banks. Whether you are looking for the IFSC code of a nationalized bank, private bank, or regional rural bank, our tool has got you covered.
2. Easy-to-Use Search Functionality: Using our tool is simple and straightforward. Just enter the bank name, state, district, and branch details, and our IFSC Code Finder will display the accurate code within seconds.
3. Quick and Accurate Results: We understand the importance of time in financial transactions. Our tool delivers instant results, ensuring that you get the correct IFSC code without any delays or hassles.
4. Mobile-Friendly: The DigitVital IFSC Code Finder tool is designed to be responsive and mobile-friendly. You can access it on any device, including smartphones and tablets, for easy and convenient IFSC code searches on the go.
5. Up-to-Date Information: Our team regularly updates the IFSC code database to ensure that you have access to the latest and accurate information. You can rely on DigitVital for reliable and up-to-date IFSC codes.
How to Use the IFSC Code Finder Tool
Using the IFSC Code Finder tool from DigitVital is a breeze. Follow these simple steps:
Visit the DigitVital website at IFSC Code Finder page.
Select the bank name from the dropdown menu.
Choose the state and district where the branch is located.
Enter the branch details, such as the name or address (optional).
Click on the "Search" button.
Within seconds, the tool will display the accurate IFSC code for the selected bank branch.
With the IFSC Code Finder tool from DigitVital, you can easily search and verify the IFSC codes of all Indian banks. Whether you need to initiate a fund transfer or provide the correct IFSC code for any financial transaction, our tool ensures accuracy, convenience, and reliability.
DigitVital is committed to providing comprehensive and user-friendly financial tools to enhance your banking experience. In addition to the IFSC Code Finder, we offer a range of other tools to assist you in managing your finances effectively. From loan calculators to currency converters, our tools are designed to simplify complex financial calculations and processes.
Make use of the IFSC Code Finder tool from DigitVital and experience the convenience of accurate and instant IFSC code retrieval. Explore our website for more valuable financial tools and resources to support your financial journey.
Conclusion
The IFSC Code Finder tool from DigitVital is your trusted companion for hassle-free and accurate retrieval of IFSC codes. Say goodbye to manual searches and potential errors when it comes to conducting online financial transactions. With our user-friendly interface, comprehensive database, and up-to-date information, you can rely on DigitVital for all your IFSC code needs.
Experience the convenience and reliability of our IFSC Code Finder tool today. Visit our website at IFSC Code Finder and unlock seamless financial transactions across all Indian banks.