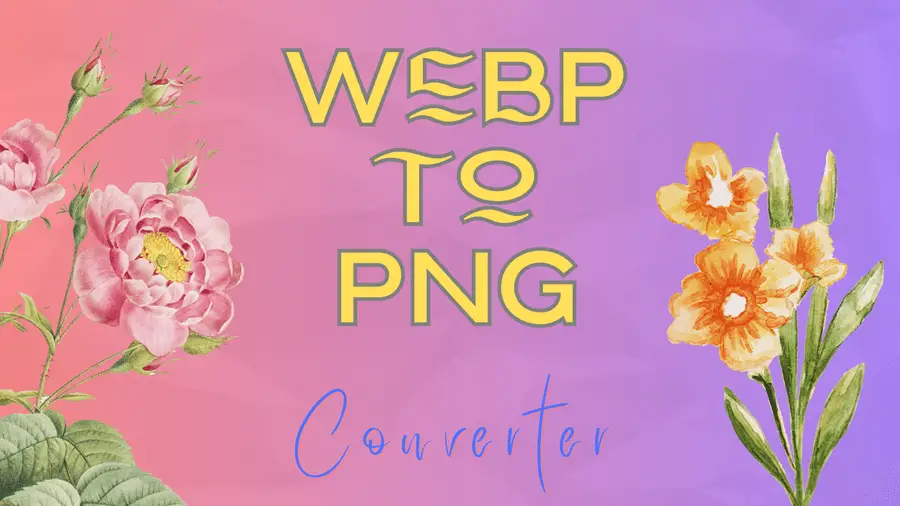 Introduction: In the digital world, the need to convert image formats arises frequently. When it comes to converting WebP images to the PNG (Portable Network Graphics) format, digitvital.com offers a reliable and efficient tool, the WebP to PNG Converter. With this tool, you can effortlessly transform your WebP images into PNG format while preserving image quality and compatibility. Let's delve into the features and benefits of the WebP to PNG Converter.
Understanding the WebP and PNG Formats
The WebP and PNG formats serve different purposes and have distinct characteristics:
WebP: WebP is a modern image format developed by Google. It offers superior compression compared to formats like JPEG and PNG, resulting in smaller file sizes without significant loss of visual quality. WebP images are commonly used for web content and can provide faster loading times.
PNG (Portable Network Graphics): PNG is a lossless image format that supports transparency. It is widely used for graphics, logos, and images that require a transparent background. PNG files generally have larger file sizes due to the lossless compression.
Why Convert WebP to PNG?
Converting WebP images to the PNG format using the WebP to PNG Converter tool offers several advantages:
Compatibility: While WebP is supported by modern web browsers, some older browsers or software applications may not fully support this format. By converting WebP images to PNG, you ensure compatibility across a broader range of platforms and devices.
Preserving Transparency: If your WebP image contains transparent areas or requires a transparent background, converting it to PNG format ensures that the transparency is retained. This is especially important when working with logos, graphics, or images that need to blend seamlessly with different backgrounds.
Image Editing: PNG files are widely used in image editing software. By converting WebP images to PNG, you can take advantage of advanced editing features, such as layering, masking, and applying filters, provided by image editing software.
Lossless Conversion: The WebP to PNG Converter tool ensures a lossless conversion process, preserving the original image quality and details. This is particularly useful when working with high-quality images or graphics that require utmost precision.
How to Use the WebP to PNG Converter
The WebP to PNG Converter tool offered by digitvital.com simplifies the conversion process:
Visit digitvital.com and navigate to the WebP to PNG Converter tool page.
Upload the WebP images you want to convert. You can select multiple images for batch conversion.
Specify the output format as PNG.
Customize any conversion settings, such as image quality or transparency, if applicable.
Click on the "Convert" button to initiate the conversion process.
After the conversion is complete, you can download the converted PNG files to your device.
Benefits of Using the WebP to PNG Converter
The WebP to PNG Converter tool provides several benefits:
Efficient Conversion: The tool ensures a fast and efficient conversion process, allowing you to convert WebP images to PNG format quickly and conveniently.
Preservation of Image Quality: The converter maintains the original image quality during the conversion, ensuring that the resulting PNG files retain the details and colors of the WebP images.
Transparency Support: The tool accurately handles transparency, preserving any transparent areas present in the original WebP images and converting them to transparent regions in the PNG format.
User-Friendly Interface: The tool's user-friendly interface makes it easy for users of all skill levels to navigate and perform the conversion process with ease.
Flexible Conversion Options: In addition to converting WebP to PNG, the tool may offer additional features such as resizing images, adjusting compression settings, or applying image filters, allowing you to further customize your image conversion.
Why use WebP to PNG converter tool from Digitvital.com
One of the notable advantages of the WebP to PNG Converter tool is its versatility in handling both individual and batch conversions. Whether you have a single WebP image or a collection of WebP files, the tool allows you to convert them to PNG format efficiently. This saves you time and effort, especially when dealing with a large number of images.
Furthermore, the WebP to PNG Converter tool maintains a high level of accuracy during the conversion process. It ensures that the resulting PNG files closely resemble the original WebP images, maintaining the same visual fidelity and details. This attention to detail is crucial, especially when working with images that require precise color representation or intricate designs.
Additionally, the WebP to PNG Converter tool is designed to be compatible with various operating systems and devices. Whether you are using a Windows PC, Mac, or Linux machine, you can conveniently access the tool through your web browser. This cross-platform compatibility ensures that users from different environments can benefit from the conversion capabilities offered by digitvital.com.
Conclusion
The WebP to PNG Converter provided by digitvital.com is a valuable tool for converting WebP images to the PNG format effortlessly. Whether you need to ensure compatibility across different platforms, preserve transparency, or take advantage of image editing capabilities, this tool offers a reliable solution. this tool have a user-friendly interface and efficient conversion process, you can convert your WebP images to PNG format while maintaining image quality and transparency With its user-friendly interface, efficient conversion process, and commitment to preserving image quality, this tool simplifies the conversion workflow and ensures optimal results. Visit digitvital.com today and experience the convenience and effectiveness of the WebP to PNG Converter tool for yourself!
Don't miss out on the opportunity to convert your WebP images to PNG effortlessly. Visit digitvital.com now and start using the WebP to PNG Converter tool!