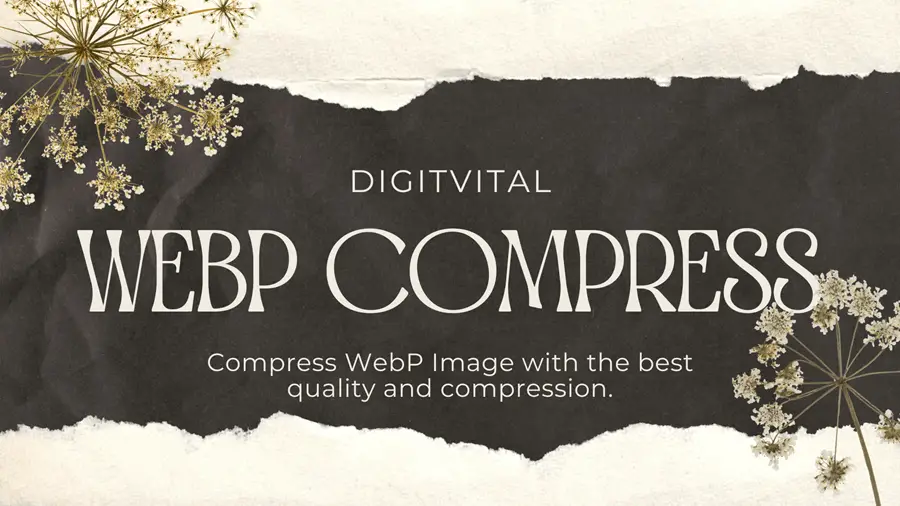 Introduction: Welcome to digitvital.com, your trusted source for efficient image compression tools. In this article, we will explore the WebP Compress tool, an innovative solution designed to compress and optimize WebP images for various applications. Whether you are a web developer, designer, or a regular user, this tool will help you reduce the file size of your WebP images without compromising on visual quality. Let's delve into the features and benefits of the WebP Compress tool.
The Importance of Image Compression
Image compression plays a crucial role in optimizing web performance and user experience. Here are a few reasons why image compression is important:
Reduced File Size: Compressing images reduces their file size, which leads to faster page loading times. This is particularly important in today's fast-paced digital world where users expect websites to load quickly.
Bandwidth Optimization: Smaller file sizes result in reduced bandwidth consumption, benefiting both website owners and users. Compressed images require less data to be transferred, reducing costs for website owners and allowing users to browse the web more efficiently.
Improved User Experience: Faster loading times enhance the overall user experience. Users are more likely to stay engaged and explore a website when pages load quickly, resulting in lower bounce rates and higher conversion rates.
SEO Benefits: Search engines consider page speed as one of the ranking factors. By compressing images and optimizing web performance, you improve your website's chances of ranking higher in search engine results.
The WebP Compress Tool
The WebP Compress tool offered by digitvital.com provides a range of benefits:
Efficient Compression: The tool employs advanced compression algorithms to significantly reduce the file size of your WebP images while preserving the visual quality.
User-Friendly Interface: The tool features a user-friendly interface that allows users of all skill levels to easily compress their WebP images with just a few clicks.
Batch Compression: With the batch compression feature, you can compress multiple WebP images simultaneously, saving you time and effort.
Customizable Compression Settings: The WebP Compress tool provides customizable compression settings, allowing you to strike the perfect balance between image quality and file size according to your specific requirements.
Preview Option: The tool may offer a preview option that allows you to compare the original and compressed images side by side, ensuring that you are satisfied with the compression results before downloading.
Using the WebP Compress Tool
Compressing WebP images with the WebP Compress tool is a simple process:
Visit digitvital.com and navigate to the WebP Compress tool page.
Upload your WebP image(s) that you want to compress.
Adjust the compression settings based on your preferences.
Click the "Compress" button to initiate the compression process.
Once the compression is complete, you can preview the compressed images and download them to your device.
Benefits of WebP Compression
WebP compression offers several advantages for web developers and website owners:
Smaller File Sizes: WebP is a highly efficient image format that can significantly reduce file sizes compared to other formats like JPEG and PNG. This results in faster page loading times and improved website performance.
Lossless and Lossy Compression: WebP supports both lossless and lossy compression. Lossless compression retains all the original image data, while lossy compression sacrifices some details to achieve even smaller file sizes. Users can choose the compression type based on their specific needs.
Alpha Transparency: WebP supports alpha transparency, allowing for high-quality image transparency with smaller file sizes. This is particularly useful for images with complex shapes and transparent backgrounds.
Browser Compatibility: WebP is supported by most modern web browsers, including Google Chrome, Mozilla Firefox, and Microsoft Edge. This ensures that compressed WebP images can be displayed seamlessly across different platforms and devices.
Improved Mobile Performance: With the increasing number of mobile users, optimizing images for mobile devices is essential. WebP's smaller file sizes contribute to faster page loading on mobile devices, resulting in a better user experience.
Conclusion
The WebP Compress tool provided by digitvital.com is a valuable resource for optimizing WebP images. By compressing your images, you can improve website performance, reduce bandwidth usage, enhance user experience, and boost your search engine rankings. With its efficient compression algorithm, user-friendly interface, batch compression capability, customizable settings, and support for alpha transparency, the WebP Compress tool offers a convenient solution for individuals and businesses alike.
Don't miss out on the opportunity to compress your WebP images effortlessly. Visit digitvital.com now and start using the WebP Compress tool!