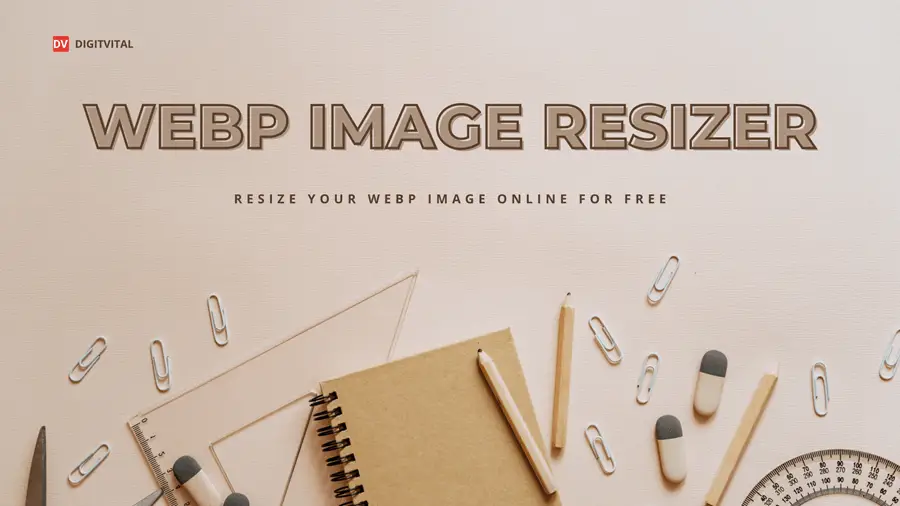 Introduction: Welcome to digitvital.com, your trusted destination for a variety of image editing tools. In this article, we will introduce you to the WebP Image Resizer tool, a powerful solution designed to resize and optimize WebP images effortlessly. Whether you are a web designer, developer, or simply someone looking to resize images for personal use, this tool will prove to be a valuable asset. Let's explore the features and benefits of the WebP Image Resizer tool in detail.
The Importance of Image Resizing
Image resizing plays a vital role in various scenarios. Here are a few reasons why image resizing is important:
Website Optimization: Resizing images is crucial for optimizing website performance. Large-sized images can significantly impact page loading times, leading to a poor user experience. By resizing images to an appropriate size, you can improve website performance and ensure faster page loading.
Responsive Design: In today's mobile-first era, having a responsive website is essential. Resizing images allows you to adapt them to different screen sizes and devices, ensuring that your website looks great and functions seamlessly across all platforms.
Bandwidth Optimization: Smaller-sized images consume less bandwidth when they are uploaded or downloaded. This is especially important for websites with limited bandwidth or for users with slow internet connections.
Storage Space: Resized images take up less storage space, making it easier to manage and store a large number of images on your devices or servers.
Visual Consistency: When working with multiple images, resizing them to consistent dimensions helps maintain a visually appealing layout and ensures a cohesive design.
The WebP Image Resizer Tool
The WebP Image Resizer tool offered by digitvital.com provides a wide range of benefits:
Efficient Resizing: The tool utilizes advanced algorithms to resize WebP images while preserving their visual quality. You can resize images without compromising on clarity, sharpness, or color accuracy.
Customizable Dimensions: With the WebP Image Resizer tool, you have the flexibility to set custom dimensions for your images. Whether you need to resize images for specific web layouts, social media profiles, or print materials, you can easily input the desired width and height values.
Aspect Ratio Preservation: The tool maintains the aspect ratio of the original image during the resizing process. This ensures that the resized image retains its proportions and doesn't appear distorted or stretched.
Batch Resizing: With the batch resizing feature, you can resize multiple WebP images simultaneously, saving time and effort. Simply upload a folder containing your images, specify the desired dimensions, and let the tool handle the resizing process.
Preview and Comparison: The WebP Image Resizer tool may offer a preview option that allows you to preview the resized images before downloading them. Additionally, you can compare the original and resized images side by side to ensure the desired results.
How to Use the WebP Image Resizer Tool
Using the WebP Image Resizer tool is a straightforward process:
Visit digitvital.com and navigate to the WebP Image Resizer tool page.
Click on the "Upload" button to select the WebP images you want to resize. You can also drag and drop the images directly onto the tool's interface.
Specify the desired width and height values for the resized images. You can either enter the dimensions manually or choose from preset options.
Choose whether you want to preserve the aspect ratio of the original images. Enabling this option ensures that the resized images maintain their proportions.
Click the "Resize" button to initiate the resizing process.
Once the resizing is complete, you can preview the resized images and download them to your device.
Benefits of WebP Image Resizing
Resizing WebP images using the WebP Image Resizer tool offers several advantages:
Optimized Website Performance: By resizing WebP images, you can reduce their file sizes, resulting in faster page loading times and improved website performance.
Enhanced User Experience: Faster loading times contribute to a better user experience, as visitors can navigate through your website smoothly without long waiting times.
Improved SEO: Optimizing your website's images through resizing can positively impact your search engine rankings. Search engines consider page loading speed as a ranking factor, and optimized images contribute to a faster-loading website.
Storage Efficiency: Resizing WebP images helps you save storage space on your servers or devices, allowing you to manage and organize your image library more efficiently.
Responsive Design: Resizing images enables you to create a responsive design that adapts to various devices and screen sizes. Your website will look visually appealing and provide a seamless experience across different platforms.
Conclusion
The WebP Image Resizer tool provided by digitvital.com is a valuable resource for resizing and optimizing WebP images. Whether you need to resize images for your website, social media, or any other digital platform, this tool offers a user-friendly and efficient solution. With its customizable dimensions, aspect ratio preservation, batch resizing capability, and preview options, you can resize your WebP images with ease. Experience improved website performance, storage efficiency, and enhanced user experience by utilizing the WebP Image Resizer tool available at digitvital.com.
Visit digitvital.com now to access the WebP Image Resizer tool and start resizing your WebP images!