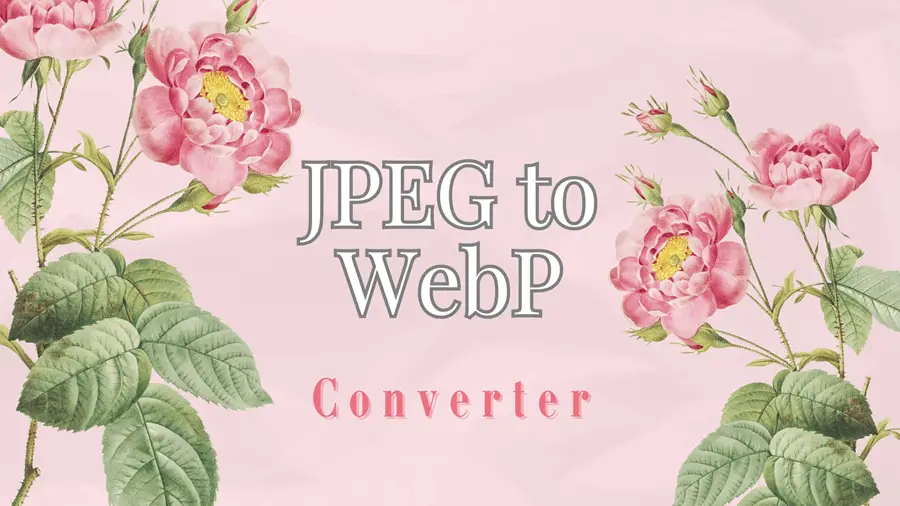 Introduction: In the digital age, images play a significant role in online platforms. Whether it's a website, a blog, or social media posts, captivating visuals are essential for engaging users and conveying information effectively. However, different image formats can impact the loading speed and overall performance of web pages. One efficient image format that addresses these concerns is WebP. To simplify the conversion process, digitvital.com offers a user-friendly tool, the JPEG to WebP Converter. This tool enables you to convert your JPEG images to the WebP format, optimizing file sizes without compromising image quality.
Why Convert JPEG to WebP?
The JPEG to WebP Converter tool offers several advantages:
Superior Compression: WebP is an image format developed by Google that utilizes advanced compression algorithms. As a result, WebP files are significantly smaller in size compared to JPEG files of the same quality, leading to faster loading times and improved website performance.
Lossless and Lossy Compression: The converter tool provides options for both lossless and lossy compression. Lossless compression preserves the original image quality, making it ideal for scenarios where maintaining every detail is crucial. Lossy compression further reduces file size by sacrificing minimal visual information, resulting in smaller files while maintaining an impressive level of image quality.
Browser Compatibility: WebP is supported by major web browsers, including Google Chrome, Mozilla Firefox, and Microsoft Edge. By converting your JPEG images to WebP, you ensure broader browser compatibility, allowing a wider audience to access and view your images seamlessly.
Transparent Images: WebP supports alpha channel transparency, making it an ideal format for images with transparent backgrounds. This feature is particularly useful for website elements such as logos, icons, and graphics, where preserving transparency is crucial.
How to Use the JPEG to WebP Converter
Converting your JPEG images to the WebP format using the JPEG to WebP Converter tool is a simple process:
Visit digitvital.com and navigate to the JPEG to WebP Converter tool page.
Upload the JPEG images you want to convert. You can select multiple images for batch conversion.
Select the desired compression type: lossless or lossy.
Click on the "Convert" button to initiate the conversion process.
Once the conversion is complete, you can download the converted WebP files to your device.
Benefits of Using the JPEG to WebP Converter
The JPEG to WebP Converter tool offers several benefits:
Optimized Website Performance: By converting your JPEG images to the WebP format, you can significantly reduce the file size of your images without compromising their quality. This results in faster loading times, improved website performance, and a better user experience.
Bandwidth Savings: WebP's superior compression capabilities help minimize the amount of data transferred from the server to the user's device. This can lead to significant bandwidth savings, particularly for websites with high image content.
Improved SEO: Page loading speed is a crucial factor for search engine optimization (SEO). By utilizing WebP images, you enhance your website's loading performance, which can positively impact your search engine rankings.
Compatibility with Modern Devices: As mobile devices continue to dominate internet usage, optimizing your images for mobile viewing is essential. WebP format is supported by modern mobile browsers, ensuring your images look great and load quickly on smartphones and tablets.
Preservation of Image Quality: Despite its superior compression, WebP maintains high image quality and clarity. The lossless compression option allows you to retain the original image quality, while the lossy compression option provides a good balance between file size reduction and image quality.
Additional Considerations
When using the JPEG to WebP Converter tool, it's important to consider the following:
Backup Your Original JPEG Files: Before converting your JPEG images to WebP, it's recommended to keep a backup of your original files. This ensures that you can always revert back to the original format if needed.
Choose the Appropriate Compression Type: Consider the specific requirements of your project when selecting the compression type. For images where preserving every detail is crucial, lossless compression is the ideal choice. For images where smaller file sizes are a priority, lossy compression can provide significant reductions without noticeable loss of quality.
Test and Optimize: After converting your JPEG images to WebP, it's essential to test the results on different devices and browsers to ensure proper functionality and image quality. Additionally, monitor the impact on website performance and make any necessary optimizations.
Conclusion
The JPEG to WebP Converter tool provided by digitvital.com empowers you to optimize your images for the web by converting them to the WebP format. By reducing file sizes while maintaining image quality, you can significantly improve the loading speed of your web pages, enhance user experience, and boost overall website performance. Take advantage of this convenient tool to unlock the benefits of WebP and ensure your images are optimized for the digital landscape.
Don't miss out on the opportunity to optimize your JPEG images with the JPEG to WebP Converter tool. Visit digitvital.com now and start converting your images to WebP format today!