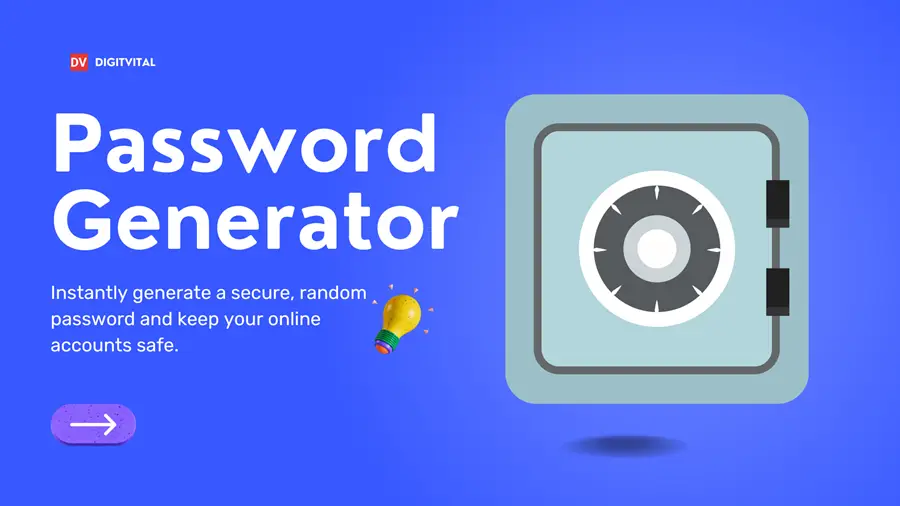 DigitVital presents a powerful Password Generator tool that helps you create strong and secure passwords for your online accounts. In today's digital age, where cybersecurity threats are prevalent, it is crucial to use unique and robust passwords to protect your sensitive information. Our Password Generator makes it easy to generate random passwords that are difficult for hackers to crack, ensuring the safety of your online accounts.
Why Use a Password Generator?
Using a Password Generator offers several advantages in maintaining the security of your online presence:
Strong and Complex Passwords: Our Password Generator generates passwords with a combination of uppercase and lowercase letters, numbers, and special characters. This ensures that your passwords are highly secure and less susceptible to brute-force attacks.
Unique Passwords: Creating unique passwords for each online account is essential to prevent unauthorized access. Our Password Generator provides you with a new password each time, eliminating the risk of reusing passwords across multiple platforms.
Convenience: With our Password Generator, you don't have to spend time thinking of complex passwords yourself. Simply click a button, and a strong password will be generated instantly.
Enhanced Security: By using strong and unique passwords, you significantly reduce the risk of unauthorized access, data breaches, and identity theft.
How to Use the Password Generator Tool
Using our Password Generator tool is quick and straightforward. Follow these steps:
Visit digitvital.com using your preferred web browser.
Click on the "Password Generator" tool from the available options on our website.
Select the desired password length. You can choose a specific length or use the default length for a strong password.
Choose whether to include uppercase letters, lowercase letters, numbers, and special characters in the generated password. You can customize the settings based on your preferences or the password requirements of the platform you're using.
Click the "Generate Password" button, and a strong and secure password will be generated.
Copy the generated password and securely store it in a password manager or write it down in a safe place.
Tips for Creating and Managing Passwords
In addition to using our Password Generator, here are some tips to enhance your password security:
Avoid Common Password Patterns: Don't use simple patterns like "123456" or "password" as these are easily guessable. Be creative and use a combination of letters, numbers, and symbols.
Use Passphrases: Consider using passphrases instead of passwords. A passphrase is a longer phrase or sentence that is easier to remember but difficult for others to guess. For example, "MyDogLikesToRunInThePark" is a strong passphrase.
Enable Multi-Factor Authentication: Whenever possible, enable multi-factor authentication (MFA) for your online accounts. MFA adds an extra layer of security by requiring additional verification, such as a fingerprint scan or a unique code sent to your mobile device.
Regularly Update Your Passwords: It's important to change your passwords regularly, ideally every few months. This practice reduces the risk of unauthorized access and keeps your accounts secure.
Be Wary of Phishing Attacks: Phishing attacks are attempts to deceive you into revealing your passwords or other sensitive information. Be cautious of emails, messages, or websites that ask for your login credentials and verify the authenticity before providing any information.
Secure Your Devices: Protect your devices with strong passwords or biometric authentication to prevent unauthorized access. Keep your operating system and security software up to date to benefit from the latest security patches.
Use Secure Wi-Fi Networks: When accessing your accounts on public Wi-Fi networks, be cautious as these networks can be vulnerable to eavesdropping. Whenever possible, use a secure and trusted network or consider using a virtual private network (VPN) for an added layer of encryption.
Use a Password Manager: Consider using a password manager to securely store and manage your passwords.
Use Long Passwords: The longer the password, the more difficult it is to crack. Aim for a minimum of 12 characters or more.
Avoid Personal Information: Do not use easily guessable information such as your name, birthdate, or phone number in your passwords.
Don't Reuse Passwords: Use a unique password for each of your online accounts to prevent a single data breach from compromising multiple accounts.
Consider Two-Factor Authentication: Enable two-factor authentication whenever possible for an extra layer of security.
Conclusion
With the Password Generator tool and these valuable tips, you can ensure that your passwords are strong, unique, and well-protected. Remember, strong passwords are essential for safeguarding your online accounts and personal information. Protect your online accounts with strong and secure passwords using the Password Generator tool from DigitVital. Our tool enables you to easily create unique and complex passwords that enhance your cybersecurity. Visit digitvital.com today and take control of your password security.