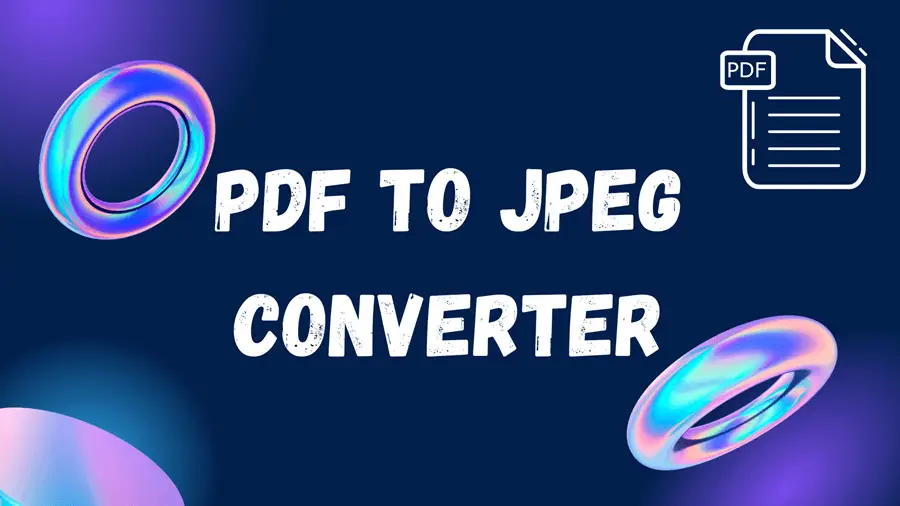 Introduction: Welcome to digitvital.com, your trusted source for a variety of online tools. In this article, we will introduce you to our efficient and reliable PDF to JPEG Converter tool. Whether you need to convert a PDF document to JPEG images for sharing, editing, or any other purpose, our tool provides a simple and effective solution. Let's explore the features and benefits of our PDF to JPEG Converter.
Convert PDF to High-Quality JPEG Images
The PDF to JPEG Converter tool offered by digitvital.com enables you to effortlessly convert your PDF files to high-quality JPEG images. Here are some key features of our tool:
Accurate Conversion: Our tool ensures precise conversion of PDF files to JPEG images, preserving the original content, layout, and quality of the document.
Multiple Page Conversion: Convert multiple pages of a PDF document into separate JPEG images with just a few clicks. Each page is saved as an individual JPEG file, allowing for easy management and usage.
Customizable Output: Adjust the resolution, image quality, and color settings to meet your specific requirements. You have the flexibility to choose the desired output settings for your converted JPEG images.
Batch Conversion: Save time and effort by converting multiple PDF files to JPEG images in one go. Our tool supports batch conversion, allowing you to process multiple files simultaneously.
User-Friendly Interface: Our intuitive and user-friendly interface makes the conversion process a breeze. You don't need any technical expertise to convert your PDFs to JPEG images with our tool.
Using the PDF to JPEG Converter Tool
Converting PDF files to JPEG images is quick and easy with our PDF to JPEG Converter tool. Here's a step-by-step guide:
Visit digitvital.com and navigate to the PDF to JPEG Converter tool page.
Click the "Upload" button to select the PDF file you want to convert. You can also drag and drop the file onto the tool's interface.
Adjust the conversion settings, such as resolution, image quality, and color options, according to your preferences.
If you have multiple pages in the PDF, choose the desired range or select "Convert All Pages" to convert the entire document.
Click the "Convert" button to start the conversion process.
Wait for the tool to process the PDF and convert it to JPEG images.
Once the conversion is complete, you can download the converted JPEG images to your device.
Benefits of the PDF to JPEG Converter
In addition to the core features mentioned above, our PDF to JPEG Converter tool offers several other benefits:
Privacy and Security: We understand the importance of data privacy. When you upload your PDF files to our tool, we ensure the highest level of security to protect your sensitive information. Your files are securely processed and automatically deleted from our servers after the conversion process is complete.
Fast and Efficient: Our PDF to JPEG Converter is designed to provide fast and efficient conversion results. We utilize advanced algorithms and technology to ensure quick processing and conversion of your PDF files, saving you valuable time.
Accessible from Any Device: Whether you're using a desktop computer, laptop, tablet, or smartphone, our PDF to JPEG Converter tool is accessible from any device with an internet connection. You can conveniently convert your PDFs to JPEG images wherever you are.
Compatibility: JPEG is a widely supported image format, compatible with various software applications, websites, and devices. By converting your PDF files to JPEG images, you can ensure their compatibility with a broader range of platforms and enhance their accessibility.
Free and Convenient: Our PDF to JPEG Converter tool is completely free to use. You don't need to sign up or provide any personal information. Simply visit digitvital.com, upload your PDF file, customize the conversion settings, and convert it to JPEG images with ease.
Enhance Your PDF to JPEG Conversion Experience
To further enhance your PDF to JPEG conversion experience, consider the following tips:
Choose the Optimal Resolution: Depending on your specific needs, select the appropriate resolution for your JPEG images. Higher resolutions offer better image quality but result in larger file sizes.
Adjust Image Quality: Balancing image quality and file size is crucial. Experiment with different image quality settings to find the optimal balance for your requirements.
Consider Color Options: If your PDF contains color images or graphics, make sure to choose the appropriate color options during the conversion process to preserve the visual integrity of the content.
Organize Converted Images: After converting your PDF to JPEG images, consider organizing them in a logical manner. Create folders or use descriptive filenames to easily locate and manage the converted files.
Utilize Compression Techniques: If you have a large number of JPEG images or need to further reduce file sizes, consider using compression techniques or specialized software to optimize the images without significant loss of quality.
Conclusion
The PDF to JPEG Converter tool provided by digitvital.com is a reliable and convenient solution for converting your PDF files to high-quality JPEG images. With its accurate conversion, customizable output settings, batch conversion support, and user-friendly interface, you can efficiently convert your PDFs for various purposes. Whether you need to share PDF content as images, incorporate PDF content into presentations, or simply extract specific pages, our PDF to JPEG Converter tool has got you covered. Experience seamless PDF to JPEG conversion by visiting digitvital.com and utilizing our powerful tool today.